Thinking about improving your everyday living experience with smart home systems in Tucson, AZ? Gadget Geeks can help! We're extremely familiar with a host of different connected devices and are experts in networking them together into the ultimate smart home experience. Our capabilities include:
Smart home automation
Video doorbell installation
Smart thermostat installation and setup
Smart device setup
Smart hub setup
Smart speaker setup
We work hard to personalize your home automation experience, helping you choose the right device and syncing everything together to put total home control right at your fingertips. Check out some of the devices we're experienced in setting up below.
Thermostat

Want to save money on your energy bills and enjoy the best possible level of comfort in your home? Invest in a smart thermostat! We can install, program and connect some of the top brands available today, including:

Nest Learning Thermostat
Honeywell Thermostat
ecobee Thermostat
Sensi Smart Thermostat

Voice Devices/Hubs

You never knew you needed a smart assistant until you have one installed in your home! We're up-to-speed on all of the smart home assistants and can help you configure them to meet your every beck and call.

Amazon Echo family
Google Home
Samsung SmartThings Smart Home Hub
Wink Hub

Universal Remote

Tired of having tons of remotes laying around? We can help you combine them all into a single smart controller. Let us put the power at your fingertips, so you can simplify the controls throughout your home.

Caavo Control Center Universal Remote
Ring Stick Up Cam
Ring Spotlight Cam

Lighting

Want your lights dimmed at the press of a button or automated to adjust based on your preferences? It's possible with smart lighting! We can install smart lighting in any room of your home, helping you harness the power of technology to meet your comfort expectations.

Locks/Doorbells

Security is a top concern for homeowners. With smart locks and visual doorbells, we'll help you make sure you're always protected and safe. Let us install these features to give you peace of mind like never before.

August Smart Lock
Ring Doorbell

Nursery

Keeping tabs on your newborn or toddler is easier than ever in a smart home. We'll introduce you to sensors and monitors that assist you in making sure your little bundle of joy is always properly cared for.

Smart Nursery
iBaby Monitor
Angelcare Baby Monitor
Babysense Baby Monitor

Smart Plug

With smart plugs, everything in your home has the potential to become a connected device! We'll help you configure smart plugs and the devices attached to them, so you have total control over your home living experience.

TP-Link Smart Plug
Wemo Smart Plug

Smoke Alarm

Today's smart smoke detectors are better at detecting threats, easier to use and totally connected to your smart home system. Count on us to install, configure and network your smoke alarm into a robust home defense network.

Speakers

Ready to get the soothing tunes of your favorite music on-demand in your home? We're able to install and configure smart speakers throughout your home or just in the rooms where you want them, synced up with your music library so your jams are always just a click away.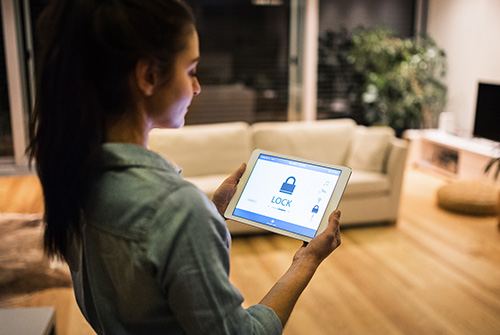 Automate Your Home
Is your home ready for the future? If you're outfitting it with smart lighting, a learning thermostat or an intelligent assistant, Gadget Geeks will help make sure the integration goes smoothly.
Reach us today at 520-461-5515 for more information about setting up your very own home automation ecosystem.